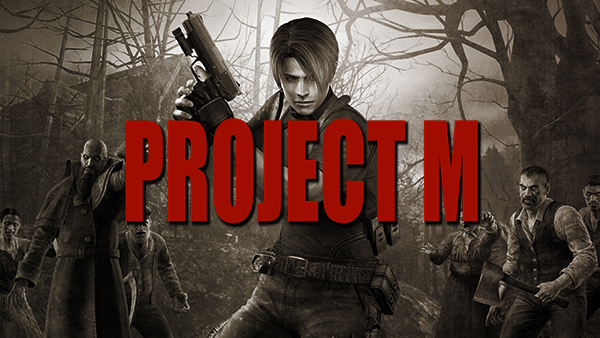 We are officially less than a week away from our next Project M event so today we are debuting the trailer and sharing all of the final details you need to know! This Saturday, December 14th, we will race through one of the greatest action/horror games ever made, Resident Evil 4! We'll be live all day long and we want YOU there to enjoy the festivities, cheer us on, and witness the shenanigans that are guaranteed to occur.
The Basics
What: 4Player Races through Resident Evil 4
When: Saturday, December 14, 2019 @ 9:00AM (CST)
Where: Watch all day on twitch.tv/fourplayerpodcast OR on 4pp.tv (be sure to use Theater mode)
Why: Because it's fun and to raise money for a good cause (The Trevor Project)
---
The Cause
Let's be real for a second. We play and talk about video games because we love them and because we're nerds but it's important to remember that it's a big world out there and there are people in it who are struggling. People who feel like they aren't free to be themselves. People who may have considered suicide as an option. While Project M is meant to be fun and celebratory of this industry that we love, we are also going to be raising money in support of The Trevor Project which was founded to provide support for young members of the LGBTQ community. We hope you come to hang out and enjoy the festivities but if you also want to chip in a few bucks for a great cause, you have our sincere gratitude.
---
The Rules
Now for the fun part. As we mentioned above, we will be using a points system this time around throughout the competition. This will give each of the competitors a chance to accrue additional points in the hopes of coming out ahead when the dust has settled. Chris Davis will be paying close attention but he'll be relying on you to help call out points for players throughout the day so we hope you will get involved. The following is a breakdown of the points system:
The Competition:
Finish: 1,000,000 points
2nd place: 750,000 points
3rd place: 500,000 points
4th place: 250,000 points
Finish but not winner: 100,000 points extra per player
The Final score screen (or most recent chapter):
Lowest death count: 100,000 points
Highest death count: 150,000 points
Highest kill count: 100,000 points
Lowest kill count: 150,000 points
Best Hit ratio: 100,000 points
Worst hit ratio: 150,000 points
The Optional Point Objectives:
Free the dog: 25,000 points
Killed by "El Lago" before the fight: 25,000 points
Shoot all blue medallions to earn the punisher: 100,000 points
Complete both routes of the gauntlet in chapter 2-3: 200,000 points
Finish the hedge maze in chapter 3-2 knife only: 100,000 points
Fully upgraded weapon in possession: 100,000 points per weapon
Earn top prize in shooting gallery: 100,000 points per level
Last person to fire a bullet in the beginning: 25,000 points
Kill the merchant: 75,000 points per chapter completed after the death
The Jewelry Completion (100,000 Points per item):
Includes beerstein, elegant mask, butterfly lamp, Salazar crown, golden lynx
---
There you have it folks, pretty much everything you need to know for the big day! We hope to see you there! If you enjoyed the trailer and want to encourage more folks to show up for the event, please share it! If you have any questions, comments, etc, leave us a comment below or reach out to us in Discord. We'll see you on Saturday!
This Thursday night
, we will be live commentating the Game Awards followed by a short podcast to cover the news coming out of the show. We plan on setting up for Project M that night as well and we may end up streaming that setup process. We'll keep everyone posted via the usual channels.