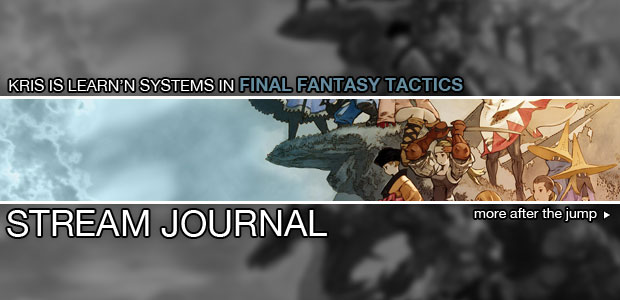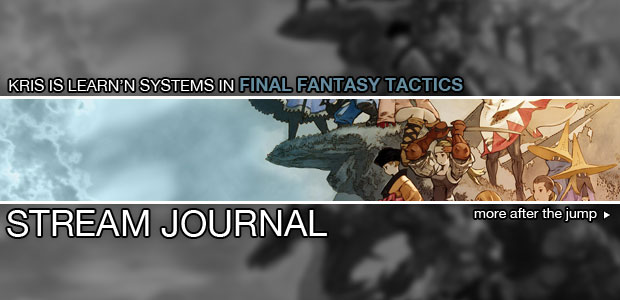 I have a complicated relationship with strategy games. I really like the genre, and I love the idea behind it; using pure strategic thought to outwit and defeat your enemy. But I've only recently come around to this way of thinking, and as such have only played a few of the more recent high-profile games in the genre. Games like XCOM: Enemy Unknown, and Fire Emblem: Awakening were wonderfully formative experiences for me. And yet, I'm really just not so good at them. True, I haven't been playing them for years, and these games usually tend to have a steep learning curve. Yet I still can't help but feel somewhat self-conscious of my performance. Victory tends to be a fleeting vision, and even when I do clear an encounter, it often comes at heavy losses.
Perhaps I'm not a strategic mastermind. Maybe I never will be. But I still enjoy strategy games. So, I decided, at other strategy fans' (Brad's) suggestion, to try a staple of the genre; Final Fantasy Tactics. For the purposes of my play through I went with the PSP re-release, Final Fantasy Tactics: The War of the Lions. I've only had one session with the game at the time of this writing, but I already know two things:
I really like the story elements of this game so far.
This is going to be an uphill battle.
The first thing I noticed about Tactics is that it seems quite dense. The correlation between the games Job System and Abilities offers a lot of options in terms of customizing your unit's roles in combat. For a noob like me, that also poses a lot of questions. Which character is better suited for what role? Which job abilities complement other job classes well? Which ones don't? Of course, these answers come with experience, but that experience is paid for with many a frustrating, nigh, hopeless battles. I'm not saying this is a bad thing, but it does tend to sap my enthusiasm for these sorts of games. I begin questioning every decision. I start thinking that maybe there is some esoteric quality that I'm missing, like somehow the genre itself is rejecting my interest in it. It's a weird thing, feeling like you are getting turned down by a game. I can almost hear it saying "Wouldn't you rather play something else? You don't quite belong here, do you?"
But, I play the game that I decide I want to play. Some games may be more forgiving to newcomers than others, but I'm not playing those games. I'm playing Final Fantasy Tactics. I'm going to get to the core of this experience. Not because I feel like I have something to prove, not because of other peoples' opinion of this game, but because I genuinely want to. Tactics seems like a genuinely interesting game, and I'm intent on getting to know it.
That being said, I'm going to go run through the tutorials. Again.