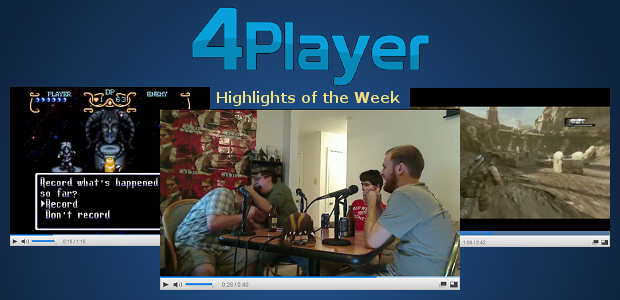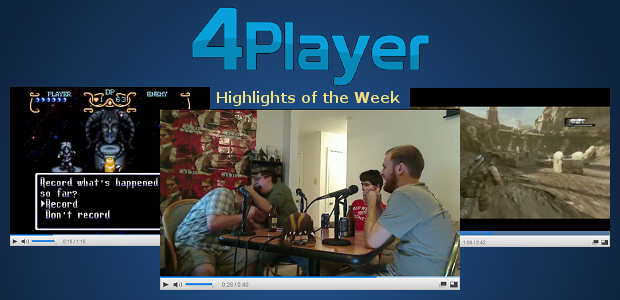 This week we've got an extra large batch of highlights due to the Extra Life Marathon. Over the weekend 4Player helped raise $4,118.37 for Texas Children's Hospital. Sick children got a lot of support from the community and the community got a lot of hilarious 4Player moments on the feed. So without further adieu, gorge thyself on this fanciful feast of entertainment.


David and SciFi "co-op":
Mike chills on the feed and creates an improvised Dark Souls inspired song:
Brad's character is rather flexible in Dark Souls:
Brad is a little too amused by the brilliant AI in Dark Souls:
Carlos ain't no 'fraid of no ghosts! No wait, he is:
I don't know what's going on here but YAY!
Brad is still a Peggle god:
Look who showed up to support 4Player at the Extra Life marathon! Brad gets an exclusive interview:
Brad performs the classic scene from Kindergarten Cop:
Really, the acting uncanny. You'd think you were actually watching a scene out of Mad Men:
Nick impresses us with his reading comprehension, only problem is he also reads stage directions:
Nolan and Brad take on an emotional performance of The Karate Kid:
Nolan impresses us with his acting skills in The Mummy:
And the Extra Life Marathon concludes. Thanks to everyone who donated!
As always, I'd like to thank those who contributed these highlights: J52, JTC545, SuperSahama, m3thodx, The Cuzzy, and AdjacentKitten. You can help create these by just following the directions on our forums. If you see a highlight in our archive that you think should get featured, leave a comment below or contact me.