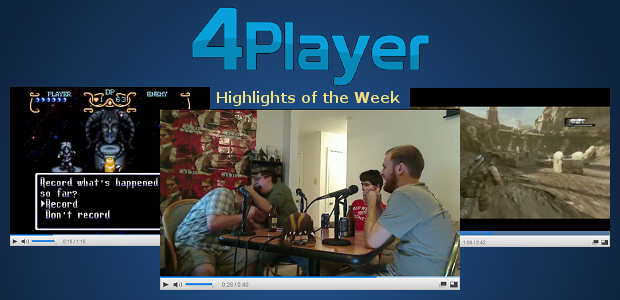 We're back for our third Highlights of the Week with no end in sight! This past week we saw a ton of Dark Souls, with a dash of Illusion of Gaia during Wayback Wednesday with Joseph Christ. We also saw the likes of Heavy Rain, Super Meat Boy and Bastion, however it looks like our clip archive is chuck full of Dark Souls footage. This just goes to show that people love to hear Brad scream.


Even the smallest of enemies can be your greatest threat in Dark Souls:
Dark Souls may not seem too scary to the casual observer but Brad is what makes it a spectacle:
Just when you think you have everything under control, Dark Souls takes that confidence and shatters it in the most psychologically horrific way:
Why wouldn't you want to be Fabio?
Neil's speech impediment doesn't get in the way of his heroism in Illusion of Gaia.
Jack has trouble with the shooting controls in RAGE but that might just be because there is no aim assist, decide for yourself:
Thanks again to J52, The Cuzzy, and Troc810 for clipping these out! As always, you can help create these by just following the directions on our forums. If you see a highlight in our archive that you think should get featured, leave a comment below or contact me.