Your login information returned multiple users. Please select the user you would like to log in as and re-type in your password.
Close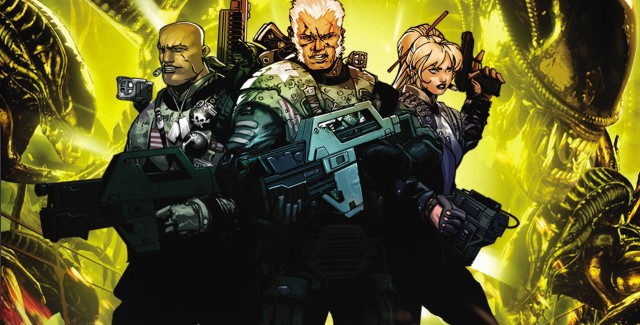 To say that I 'had the chance' to play WayForward's new Aliens DS game is a bit of a misnomer. To say that 'through my street smarts and roguelike abilities I was able to find WayForwards new Aliens DS game' is a little more accurate. The game wasn't being shown as much as it was being trotted out by request, behind the larger booths, like a drug dealer finding that dark spot behind the Port Authority to show you his wares. And before you think I'm taking some artistic liberty here, I can assure you this is not an exaggeration.
I had suspected that the game had to be somewhere at the show and so I made my way to the Sega area of the convention. Not seeing it amongst the behemoth Rise of Nightmares and House of the Dead: Overkill booths, I made my way to the small Sega help desk.
"Hi, I feel it within the nexus of my gaming bones that here, somewhere, you have Aliens: Infestation" (I actually said that), and with an impassioned "Oh yes!" the woman pulled a slightly worn DSi XL from a drawer and called over her associate.
"He wants to see Aliens: Infestation!" she shouted over her shoulder, prompting a tall man to appear from behind the booth adjacent to us. He was reaching hurriedly into his pocket, he was smiling, his eyes alight with excitement. For a split second I had that feeling in my stomach you experienced when you were a teenager, and you realized that something illegal was about to happen in your presence. That sudden awareness that within the whirlwind of normalcy going on around you, you were about to do something completely against the grain.
"I have it right here!" he said, as he pulled me to the side of the booth and revealed a large gray card from his pocket. Looking more like a small gun magazine than a game -probably a prototype developer copy- he put it into the DS and switched the handheld on. Suddenly, there I was standing behind a booth, the buzzes and cheers of PAX slightly dulled, a much taller man standing over me, and I was playing Aliens: Infestation.
To put it simply, Aliens: Infestation plays like an amalgamation of Metroid and Shadow Complex, expect transpose Metroids and soliders with Xenomorphs. It has everything you would expect from a Metroid experience; the large non-linear explorable map, the upgrading of weapons to allow access to previously inaccessible areas, and all the atmosphere and tension we have come to expect from an Aliens experience. The latter is the most impressive  because I find it amazing that WayForward has been able to make a game for the DS which is truly a tense, and decidedly frightening experience. For example, during my playthrough I was startled, out loud, by a cat jumping out of a steam vent. Startled, while playing a DS, and being bathed in the bright lights and exorbitant noise of PAX.
The tension does begin to eclipse when the enemies start showing up but it is no less a hair-raising experience. Enemies are tough to kill and aggressive. Aliens will have no problem charging at you from both the ground and the ceilings, making quick work of your character unless you have a certain propensity for using the dodge button. To combat this, WayForward has added an interesting death and teammate system which allows you to budget lives in the same way you would in a bullet-hell game. For example, your team is made of four members. When one dies you'll be able to choose another to pop in and take his place in the same spot where you died before. It makes for quick continues and mitigates the frustration that might come from harder fights. Additionally, if a member of your team is taken down by a Xenomorph you'll have the opportunity to find them cocooned somewhere in the mission. Find them within a certain period of time they will rejoin your squad as if nothing happened. However, if you take too long they'll have become impregnated, and even though they can still rejoin your squad, it won't be long before they inform you that they "don't feel good" and an Alien bursts from their chest.
Though I didn't have the chance to see this happen during my playthrough, I can guarantee that it probably looks exceptional when it happens. Aliens: Infestation is a downright gorgeous game with some of the best sprite work I've seen on the system to date. This is partly due to the character designs and portraiture being provided by comic artist Chris Bachalo, combined with the highly detailed animations which spray a 55-gallon drum of life into the world. Just watching a character climb a ladder is an almost jaw-dropping experience, and the Xenomorphs are handled with just as much care. My first few deaths actually occurred because I was too busy ogling the Aliens and not spending enough time shooting them.
Speaking of shooting, WayForward has implemented a fairly advanced move-set for your character as well. Team members can do the normal run-and-gun, or stand in one position and shoot in all eight directions. They even have the ability to take cover and blind fire if need be. You'll have both normal weapon and grenades to start with, and these weapon choice will be expanded upon as you explore new areas. In terms of defense, your character will also have a welder which can be used to weld doors shut behind you as you progress. This doesn't permanently shut a room -you can just un-weld it again with the same tool- but it allows you to protect your rear when battles become too heated and death is imminent.
At the end of my playthrough I was able to fight and defeat the queen, but not before losing three teammates in the process. The fight, however, was exciting, bloody and a great finale to my brief Aliens: Infestation experience. When I was done I handed the DS back to my tall friend who slid the game-magazine out of the console, put it back into his pocket and slowly retreated to the shadows. I thanked the woman at the front desk for their time and quickly texted the other members of my team, like a junky who had finally found a place to score.
"Aliens: Infestation is here. Go to Sega desk, ask for it by name. They'll show you the goods."