Your login information returned multiple users. Please select the user you would like to log in as and re-type in your password.
Close
It is hard to believe but after nearly 2 years, E3 is back (sort of) and it's finally starting to feel like announcement season. While the shadow of covid-19 looms over everything still, nature is slowly starting to heal. Despite the fact that the show is going 100% digital this year and there won't be any show floor to speak of, the gaming world is bracing itself for a wave of presentations and announcements from June 10 - 15th.
4Player will not be attending E3 in any official capacity this year (because let's be honest, what does that even mean?) but we will be providing our own commentary as usual. Nick will be hosting streams throughout the event to provide commentary for most of the E3 presentations along with various other 4Player staff. So with that in mind, here is the E3 content you can expect from us in the coming days/weeks:
---
You can tune in live and join us for live podcasts, reactions, and commentary throughout the event at Twitch.tv/FourPlayerPodcast! Keep in mind these plans are subject to change so keep an eye on our Twitter & Discord feeds.
Thursday, June 10th
8:00pm (CST) - Pre-E3 Podcast - Predictions, rumors, community questions (Submit yours here), & news from the Summer Games Fest
Saturday, June 12th
2:00pm (CST) - Ubisoft Forward Live Commentary
3:30pm (CST) - Devolver Digital Presentation Live Commentary
4:00pm (CST) - Gearbox E3 Showcase Live Commentary
Sunday, June 13th
12:00pm (CST) - Microsoft / Bethesda Joint E3 Showcase Live Commentary
2:15pm (CST) - Square-Enix Presents Live Commentary
4:00pm (CST) - Warner Bros. 'Back 4 Blood' Presentation Live Commentary
4:30pm (CST) - PC Gaming Show Live Commentary
Monday, June 14th
2:00pm (CST) - E3 Indie Showcase Live Commentary
4:30pm (CST) - Capcom Presentation Live Commentary
Tuesday, June 15th
11:00am (CST) - Nintendo Direct Live Commentary
2:25pm (CST) - Bandai Namco Presentation Live Commentary
Thursday, June 17th
8:00pm (CST)- Post E3 Wrap-Up Podcast
---
E3 Bingo
Lastly, in the interest of fun (read: making the best of what could be a shit-show), we will be playing E3 bingo duing all podcasts/presentations using a card that was created with feedback and ideas straight from the community! Press conferences during normal E3 years are always toss-ups and we fully expect this year is probably going to be even "worse" because of the format shift. So with that said, BEHOLD! The 4Player E3 2021 Bingo card!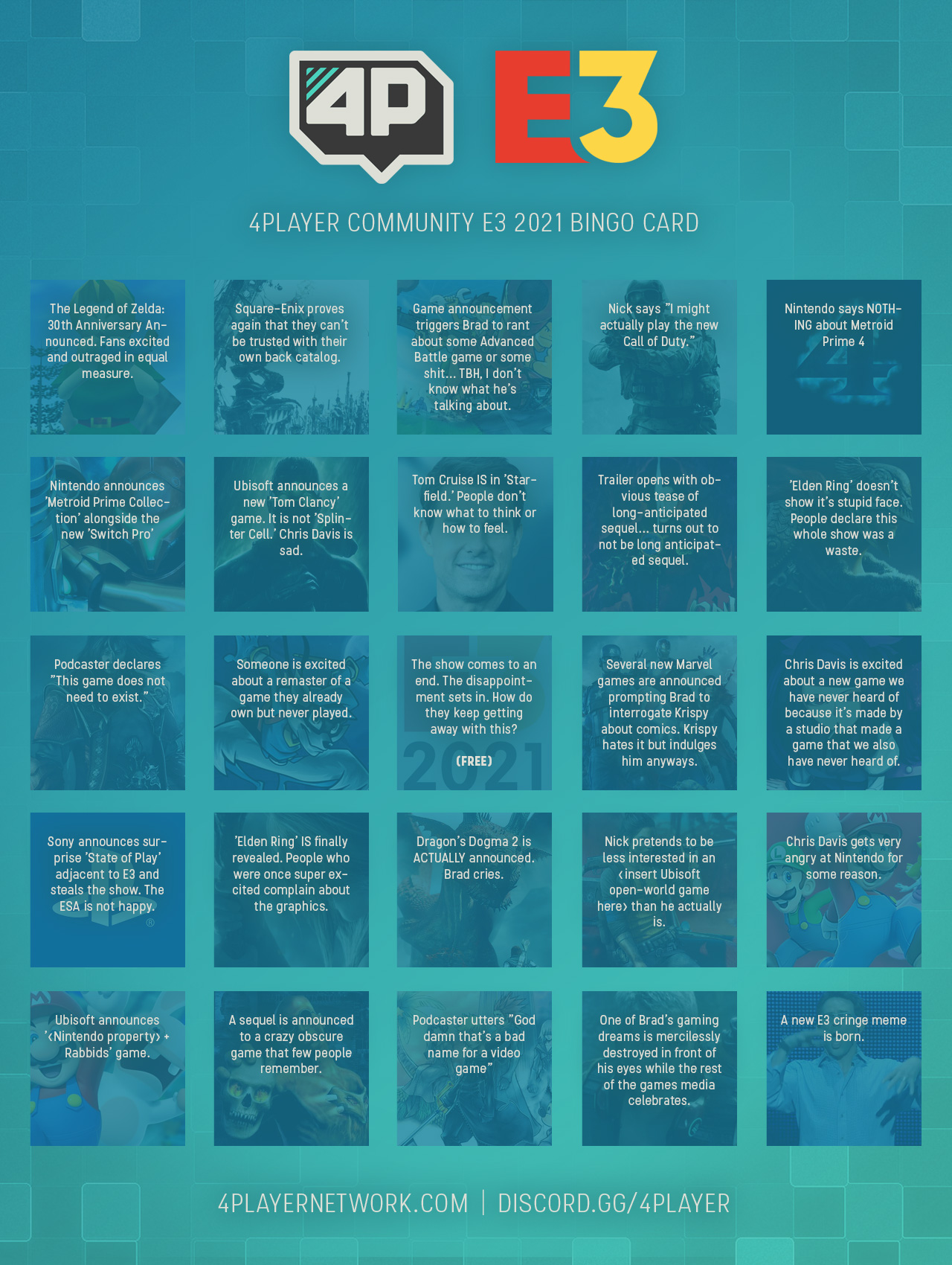 There are no prizes involved but it will be fun to see how well our community has pegged the show and the reactions from the staff and the gaming community at large. We hope you will join us in the days that follow. It's been a rough year and even though this particular E3 holds perhaps the most potential for disappointment, it also holds the most potential for surprises! But don't be fooled, not all of us are tempering our expectations... Our very own Chris Davis has boarded the Hype train at his own peril. Check out his new Top 5 video featuring his "Most Wanted Announcements of Summer 2021:"