It's hard to believe but people were scared the world would devolve into chaos at midnight when the clock struck midnight on January 1, 2000. Luckily that didn't happen so the capitalist machine kept on trucking and we were graced with an unforgettable year for games. That year included the launch of the Playstation 2 for heaven's sake. In the years that followed, that console went on to build one of the most impressive catalogs of games ever; even by today's standards. Not only that, the year 2000 pumped out tons of amazing games on the Playstation 1, Nintendo 64, and PC.
To celebrate, in the month of August, we will be focusing all of our attention on the games that made that year such a landmark year for the industry. Our live streams AND podcasts will feature nothing but games celebrating their 20th anniversary in 2020. The stream calendar has been updated and we have included the nifty little infographic below to give you a taste of what is to come: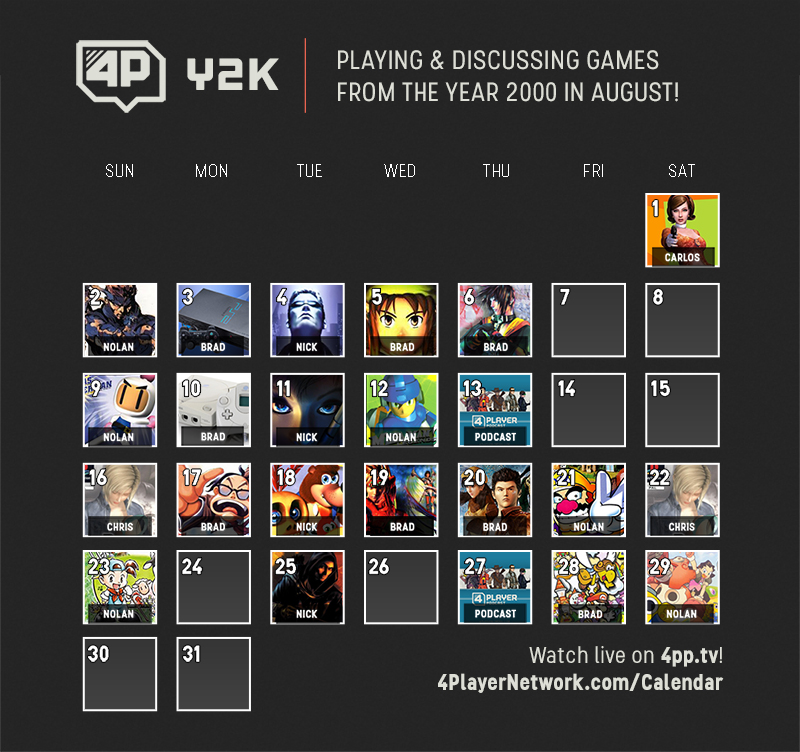 The calendar is subject to change and doesn't include every game that will grace our stream throughout the month but it should give you a good idea of what to expect. In addition to some deep cuts and hidden jimmies, we will be revisiting classics like Perfect Dark, Harvest Moon, Deus Ex, and much more! Brad has some fun themed nights planned including a recreation of the PS2 launch night and we hope to put together a few additional surprises throughout the month for your enjoyment!
We have a dedicated Y2K Month channel setup in Discord if you want to talk about these games with the community or make recommendations/requests! We will continue to post updates as these plans come together but we hope you enjoy this break from the new hotness while we celebrate this amazing year in our industry's history. Cheers!