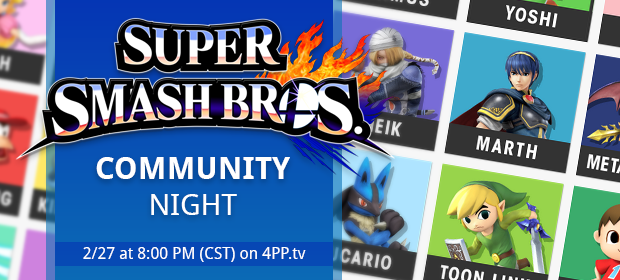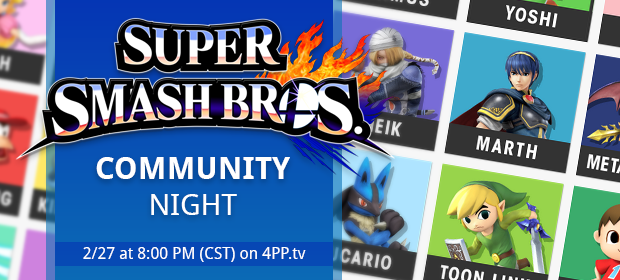 UPDATE: Community Night is over! Thanks to everyone who joined the fray and congratulations to our giveaway winners, Kemmybelle and RRRed! Join us again at the end of March for the next community night!
Our 2nd Community Multiplayer Night of 2016 is going to be held Saturday night (2/27) at 8:00 PM (CST) and we would love to play with you! YES, you! Nick and Krispy will be hosting 4 player matches of Super Smash Bros Wii U between 8:00 PM - 11:00 PM (CST). We'll be taking the opportunity to take the new Smash Bros Characters (Bayonetta, Cloud, and Ryu) for a spin as well!
Also... Participants throughout the night will be entered in a drawing to win one of TWO $10 eShop Points Cards!
The first hour will be reserved for our lovely Patron Supporters but matches will open up to the community at large at 9:00 PM (CST)! If you are interested in joining the fray, please post a comment down and help minimize the setup by sending Nick a friend invite on the Nintendo Network (BHButcher). It also wouldn't hurt to post a comment down below so we can add you to the list!
We hope to see you there on Saturday night whether you are a contender or spectator! Cheers!
What: Super Smash Bros Wii U Community Multiplayer Night and Points Card Giveaway
Where: 4PP.tv of course! Send Nick a Nintendo Network Friend Invite (ID: BHButcher)
When: 8:00PM (CST) - Playing with Patrons / 9:00PM (CST) - Opening it up to the Community
Platform: Wii U