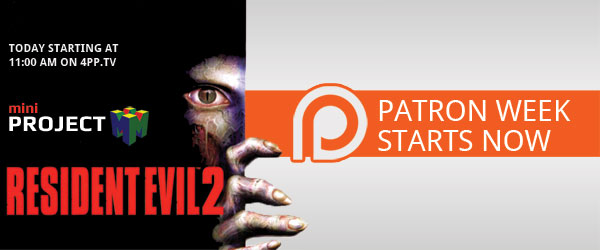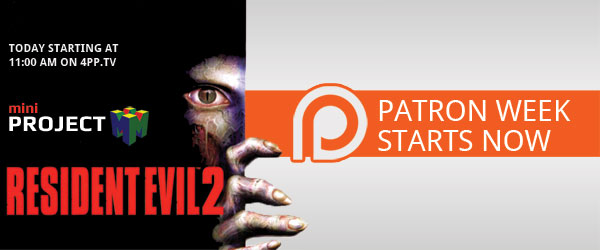 As promised, our first annual Patron week starts RIGHT NOW and we are kicking things off with our 1st Mini Project M starting at 11:00AM (CST) today on 4PP.tv! Thanks to you guys, we have been able to make much needed upgrades that have helped us take what we do to the next level. Every day, we'll be offering up new content and breaking down what we have achieved thus far and what comes next in our campaign! To start things off, let's talk about the Mini Project M events!
---
Mini Project M
Upon reaching the $750 goal, we promised 3 Mini Project M's per year. These will be mini competitive races (get it? Like a Marathon) to the finish line of some classic games by various members of the staff. On top of that, many of these events will take advantage of our Brand New Dual Stream mode on 4PP.tv which allows you to watch both casters at the exact same time! You can even use this new mode in conjuction with Theater Mode!
Starting today (Sunday, June 7th), at 11:00AM (CST), Nick and Brad will be racing to the end of Resident Evil 2 while playing as the opposite characters in Scenario A. Brad will be playing as Leon and Nick will be playing as Claire.
For updates regarding future broadcasts, including future Mini Project M events, please visit the Calendar page.
---
What's a Patreon?
Patreon is a flexible, monthly means of supporting your favorite content creators on the web (like ourselves)! You can name your price per month which will then dictate what levels of content or rewards you gain access to. Whether you pay $1 per month of $50 per month, every penny goes towards achieving fun milesones that everyone can benefit from! At the moment, we are sitting at $923 per month and we recently unlocked the milestone that will see us re-opening the 4Player store. We just gotta lock down a T-Shirt design and then everyone will be able to get their hands on some sweet 4Player merch!
---
What's Next?
We are just $27 away from our next goal of $950! When we hit it, we will immediately be setting Krispy up with a new capture card and getting him started on a Let's Play series of Demon's Souls; the only game in that series that he has yet to play!
---
Be sure to check back every day this week for access to some exclusive content that is normally only available to those who back us on Patreon including Top 5 videos, Let's Plays, and more! To learn more about our ongoing Patreon campaign and the next milestones that we are striving for, please visit Patreon.com/4Player!