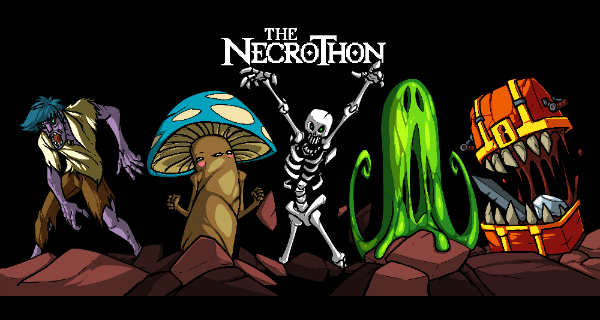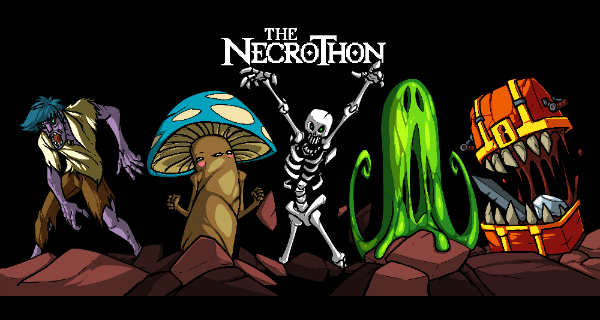 Introducing the Crypt of the NecroDancer's The NecroThon! 
Brace Yourself Games is holding a tournament for their upcoming game Crypt of the NecroDancer in which 72 broadcasters on Twitch and YouTube will be competing in events for prizes and to help benefit charities and one of the broadcasters is ME!
The tournament will last from July 21st through July 30th to help promote the release of the game which has officially been announced for Steam Early Access on July 30th.
The Events
There are four events in which broadcasters will be participating:
Daily Challenge - This can only be attempted once per day! A player's score is the number of coins they possess when they die.
Hardcore Mode Speedrun - Complete hardcore mode as fast as possible!
Aria Mode - In Aria mode, players can only have a dagger and will die if they miss a single beat or take a single hit!
Dance Pad - This event requires players to play hardcore mode using a dance pad and their feet!
Additionally, there are two "on the spot" events for individuals only:
First person to complete Aria Mode - Only a few people on Earth have ever completed this mode! The first person to complete it during the competition will receive a prize.
First person to complete Hardcore Mode with a dance pad - A truly difficult challenge! Again, the first person to do this will receive a prize.
This is a closed tournament with participants chosen by Brace Yourself Games so you cannot enter but you can help contribute to the price pool and get some awesome NecroDancer perks in return. More details on this coming July 21st.
Here is the launch trailer for the game:
Be sure to tune into the feed at 4pp.tv all next week when I will be trying my hardest to get to the top and be the best NecroDancer. 
More details at the Crypt of the NecroDancer's site found here.
Here I am playing the game with the dance pad. (This was my first time so I wasn't the best at it)