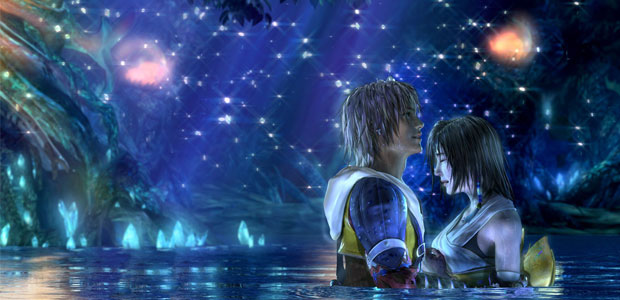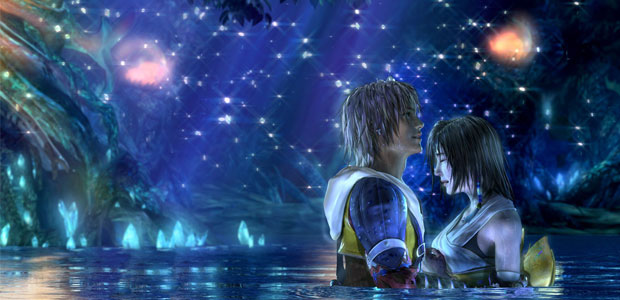 Take a deep breath.
Square Enix has released Final Fantasy X-2.5, a novel fitting ambiguously into the timeline of Final Fantasy X and X-2, to coincide with the release of the HD remaster. Worrying is the presence of a cliffhanger ending, indicating the possibility of a Final Fantasy X-3; maddening is the novel's content.
Spoilers follow.
According to various reports compiled by a few sources, the novel's plot follows protagonists Tidus and Yuna two days after Tidus' resurrection. Tidus is a little out of it for obvious reasons, but this apparently angers Yuna and they have fallen out of love. The two are shipwrecked on an island, and following an argument, Tidus goes to kick a blitzball found on the beach in anger. This blitzball turns out to be a bomb, and Tidus blows up.
Yeah.
Reports are a little messy from here on out, but the rundown seems to be that Yuna revives him, as Tidus is now made up of pyreflies and she has control over them. Reviving an unsent causes issues with the Farplane, and so basically everyone comes back to life, Sin included.
I don't know, man.
Specific details will be firmed up over time, but the book's Amazon page is currently flooded with angry one-star reviews as outraged fans voice their displeasure with the product. Setting aside the pointless, manufactured drama brought about by mutilating a core character relationship and the assault on series lore and canon (let's not even get started on how little sense a revived Sin makes), other issues revolve around the book's uncomfortably morbid, gruesome, and sexual content.
Some reports are coming in that Tidus' death is accompanied by details of his dismembered head flying at Yuna, for example, and out-of-place sexual innuendos abound. Murmurs of the latter range from Tidus commenting that he won't be able to focus on battle due to Yuna's "sexiness," to rumors of a necrophilic scene in which Yuna has sex with Tidus (who, at this point, should be dead) in order to revive the Fayth.
The nitty-gritty details can only be pieced together through corroboration at this point for those of us unable to read the book, but enough can be seen at this point that what has happened here is… not too good. Worse still, the book is actually written by Kazushige Nojima, who penned Final Fantasy X itself. It is startling and perplexing, then, that this is where he would choose to take the universe and characters.
I have canceled my pre-order for the X/X-2 HD release at this point. We vote with our wallets, and it's not hard to imagine that sales will dictate whether or not X-3 is viable.
If you'll excuse me, I think I have a headache.