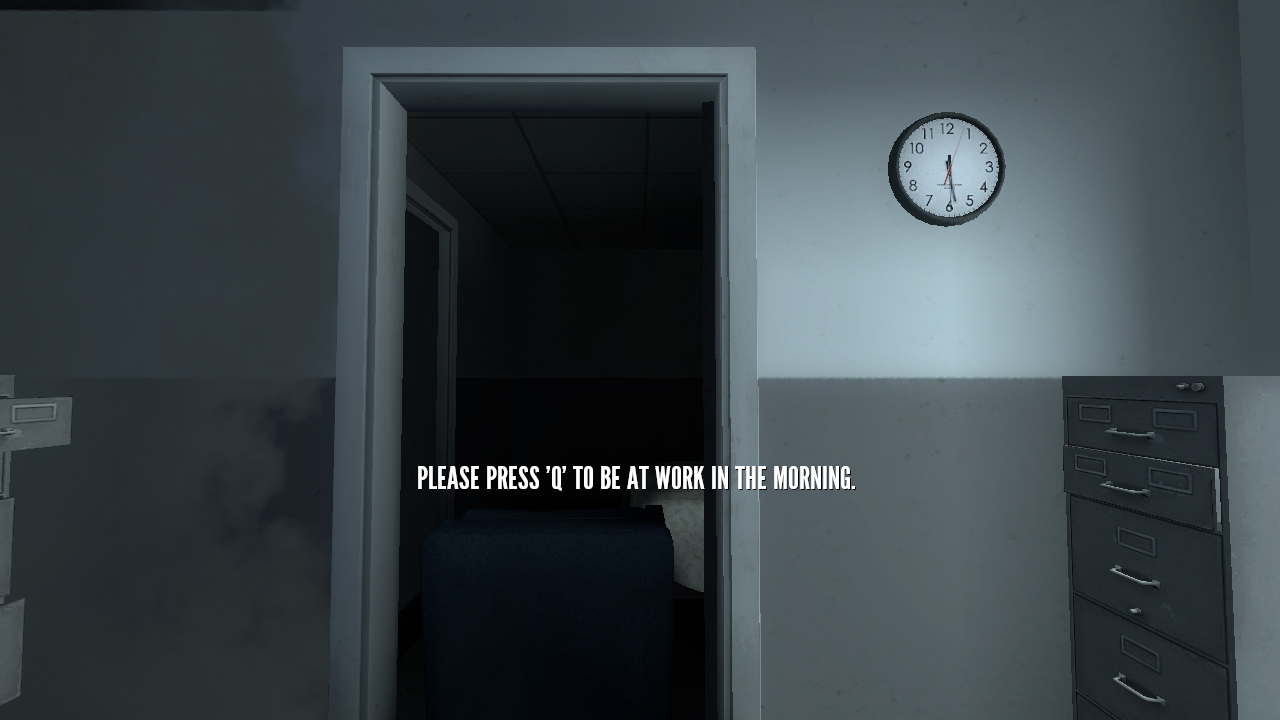 I've watched this ticking-clock fart away minutes way too many times. It happens the same way, every time. I boot The Stanley Parable, contradicting the narrator until he tests my ability to not push a button.
PLEASE PRESS 'Q' TO BE AT WORK IN THE MORNING.
That clock is an asshole; as if there to *just* devilishly grin. I wondered if there's a point and time where I win the bet. Correction: there BETTER be a point and time where I win that bet, otherwise, I've seen all I can see with The Stanley Parable - and that makes me sad.
I don't want to lose to the game, yet at the same time I do. It deserves to beat me - if only a few in 2013 can. I have a burning desire to see what comes next, yet I ride out its test in hopes that there's a payoff. (Please, NO SPOILERS in the comment section)
So far, I've watched 10 minutes go by. The boredom pokes at my eyes. Eventually, I crack, heading for the doors that lead to desktops and steam sales. I'm aware I can easily just leave the game running, but too afraid I'd miss the response to my victory. And maybe, *just maybe* this is the point; the idea that you agonize in the moment. The game seems to be as clever - so I've heard.
So this could be it, huh? Sure I could easily Google-search my dying-answer, but I'm too much of a hipster for that. There's only 2 ways this ends: waiting it out, watching polygonal clock-arms tick away minutes of my life, as I painfully raise my arm in victory of not pressing 'Q' to be at work in the morning – and being better than what The Stanley Parable thinks of me -
OR
Giving-in: becoming everything the game says I am, yet enjoying the rest of what this game could possibly be.
For now, I wait - strong yet bored. I intend on sitting for an hour, next time I boot it. Maybe the hour can hypnotize me into waiting longer; leaving me mumbling, "What if it's only a minute away? WHAT IF IT'S ONLY A MINUTE AWAY?"
The clock still grinning…
The Stanley Parable is a game by Galactic Café, and can be purchased here. Also: play the demo; it's a unique experience and won't ruin a second of the full-game.