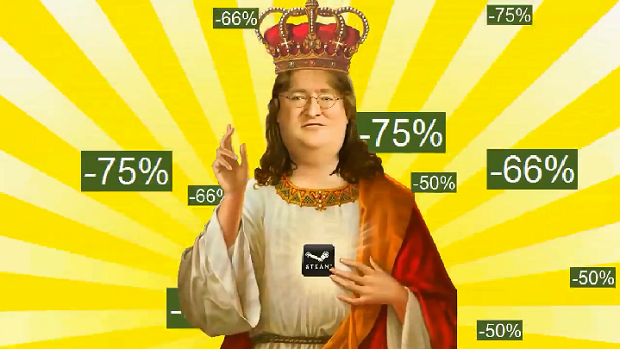 The time has come yet again.  We didn't know when, but we knew what we were facing: wallet-destroying SAVINGS.
Yes, my friends, Valve's annual Steam Summer Getaway Sale has begun.  As we bow down in thanks to our holy Valve overlords and their leader the mighty GabeN, let us remember to not spend ourselves into unforgivable debt.
Alright that being said, let's get right down to brass tacks.  This year's sale, lasting July 11th through 22nd, will be updated every day at 12pm CST with ten new games at very, very low prices.  As was done last year, the sale includes the ability for Steam users to vote on one of three games to be extremely discounted eight hours later.  As with the recent introduction of Trading Cards, Steam users can save up their cards and craft them into badges, thus encouraging you to actually play the games you are going to buy.  For every $10 you spend on Steam during the sale you will get a trading card as well.
We'll be breaking things down for you over the next ten days so that you may relish in the wonderful savings.  Please keep in mind that these are in USD so expect some differences if you live outside the United States.  Please note that there don't seem to be any specific bundles this year thus far.  I suspect that bundles will appear in the daily deals instead.
Final Daily Deals
The Elder Scrolls V: Skyrim Legendary Edition (-40%) $35.99
Civilization V (-75%) $7.49
The Walking Dead (-75%) $6.24
Borderlands 2 (-66%) $10.19
Bioshock Infinite (-50%) $29.99
Dishonored (-66%) $10.19
Kerbal Space Program (-40%) $13.79
Chivalry: Medieval Warfare (-75%) $6.24
Tomb Raider (-75%) $12.49
Torchlight II (-75%) $4.99
Still Available Deals
Prison Architect (-34%) $19.79
Worms Revolution (-75%) $3.74
Star Wars Knights of the Old Republic II (-33%) $6.69
CounterStrike Global Offensive (-66%) $5.09
Assassin's Creed III (-40%) $23.99
Saints Row The Third (-75%) $4.99
StarForge Alpha (-50%) $9.99
Sonic All-Stars Racing Transformed (-75%) $7.49
Omerta: City of Gangsters (-75%) $9.99
Natural Selection II (-75%) $6.24

For those wanting to get the most bang for their buck one good rule of thumb to live buy is to avoid buying anything that isn't a daily deal until the last day of the sale.  This rule has applied to the past few years' sales but it may be different this year, who knows.
I'm going to see about enlisting the aid of my fellow writers in keeping this up to date as the sale goes on.  So, for now, enjoy the sale.  Rejoice!
*Please note: for the purpose of time, I've reused last year's Steam Sale post and thus it includes the comments from last year. My apologies for the confusion.