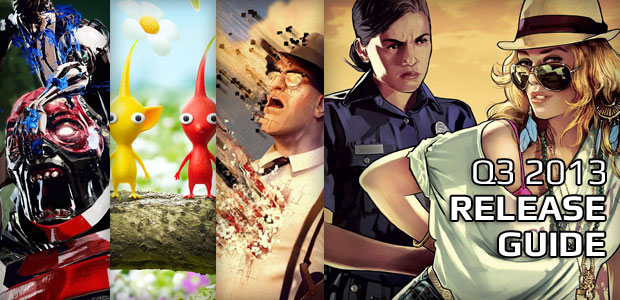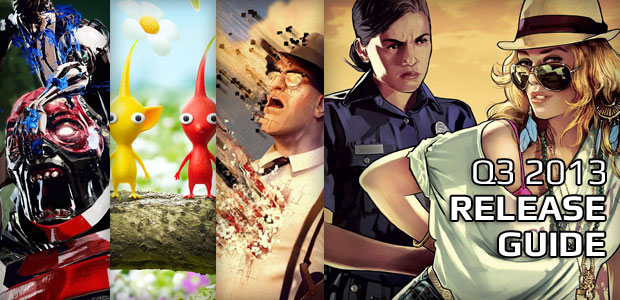 We find ourselves in the middle of one of the most painful periods in any gamer's year: the Summer doldrums.  This year in particular though marks a time that is particularly more excruciating than seasons in recent memory as we are but five months out from the release of a whole new generation of consoles.  With E3 having come and gone and the biggest games of the season pretty much having dropped already, we are left to wade through the swamp of sadness, desperately on the lookout for new titles to be excited for.
But hark, what is that on the horizon?  Could it be?!  Yes, it IS!  AUGUST!  Oh sweet, wonderful August, the end of the Summer that will surely mark both the beginning of the Steam Summer Sale as well as the first shots of the Fall season's war on our wallets.  Are you prepared?  Let's detail what we've got coming up.
July 9th
Civilization V: A Brave New World
Developed by: Firaxis Games
Published by: 2K Games
Platforms: PC, Mac
"Just one more turn, that's all, just one more..."  These are the words spoken by the afflicted who have come into contact with the time-robbing sensation that is Civilization V.  Next thing you know it's the following Tuesday, your landlord is banging on your door demanding the rent and you realize that your body odor would cause the CDC to classify you as a class three contaminant.  In what will probably the last expansion to Civ V, Firaxis is promising to improve the late game immensely, introducing trade routing and ideologies, reworked cultural and democratic victory scenarios and more.  In addition you'll be able to take the reins of nine new civilizations ranging from Enrico Dandolo of Venice to Shaka of the Zulu tribe.  All in all, there seems to be plenty on the table to feed your ever growing addiction for the series and I personally really look forward to it.
July 25th
Shadowrun Returns
Developed by: Harebrained Schemes
Published by: Harebrained Schemes
Platforms: PC, Mac
In 2007 developer FASA Interactive attempted to translate the classic tabletop RPG series Shadowrun to that of the modern gaming scene.  So, naturally, they made it into a FPS.  This turned out to be their death knell as the game flopped and the studio was all but shut down but a few months after release.  Undeterred, a new studio called Harebrained Schemes, headed up by series creator Jordan Weisman, decided to do the series right and last year Kickstarted Shadowrun Returns.  An isometric turn-based combat title ala XCOM, Returns will allow for strong character creation while allowing the player to use both magic and futuristic technology to achieve goals.  It honestly looks pretty good at this point but if you need to see the game in action, check out the 19 minute alpha demonstration video above.  If you've been feeling an itch for XCOM-like combat, this is just the right medicine.
Expected in July
Sir, You Are Being Hunted
Developed by: Big Robot
Published by: Big Robot
Platforms: PC, Mac, Linux
One of the most memorable books published in the past century was The Most Dangerous Game, a novel that focused on a man being hunted by a powerful aristocrat for sport on an isolated island.  It's served as the foundation for countless books, films and television episodes such as A Game of Death, The Hunger Games and Hard Target.  It's great fodder for any sort of material and is the subject of former Rock Paper Shotgun editor Jim Rossignol's first game.  You find yourself trapped on an island being hunted by hordes of robots dressed up and armed as 19thcentury British fox hunters and you must scavenge to survive.  The island chain you will explore are procedurally generated guaranteeing a unique experience every time you play.  It looks like a ton of fun and is definitely worth your attention.
August 4th
Pikmin 3
Developed by: Nintendo
Published by: Nintendo
Platforms: WiiU
Finally arriving nearly a year after it should have, the next entry in Shigeru Miyamoto's rather quirky Pikmin series starts off the month of August.  Honestly though, what is there to say about it other than its simply more Pikmin?  Yeah, I've got nothing.  Watch the trailer and, if you're a fan, you might want to pick this one up.
August 6th
Dragon's Crown
Developed by: Vanillaware
Published by: Atlus
Platforms: PS3, Vita
Across Vanillaware's existence, they've really only done one type of game: the side-scrolling beat 'em up.  However, despite have a singular design focus, they've made some very, very good ones.  If Odin Sphere or Muramasa: The Demon Blade sound familiar, then you know what I'm talking about.  You will play as one of six characters as you and up to three of your buddies seek to claim the legendary titular crown in a very nicely drawn and animated world.  If you fancy a good beat 'em up this year, pick this one up and support both a good developer and (you'll rarely ever see me type this) a reputable publisher.  Given Atlus' current financial situation, this might be the release to make or break the company.
Tales of Xillia
Developed by: Namco Tales Studio
Published by: Namco Bandai Games
Platforms: PS3
Another year, another Tales game.  I know, I sound biased and yeah, I kinda am.  From my perspective the titles look all the same but hey, a ton of people buy these games so to each their own.  Xillia originally dropped in Japan nearly two years ago now and is finally be released here after much poking and prodding from fans.  Considering that Famitsu gave it a 39/40 score (which they are not generous with) this might be the JRPG to pick up this year if you've been feeling the need for a game starting anime characters full of angst and sidekicks who are so annoyingly voiced that you'll never use them in combat.  Yeah, I went there.
August 11th
Mario & Luigi: Dream Team
Developed by: AlphaDream
Published by: Nintendo
Platforms: 3DS
The Mario & Luigi RPG series has always been rated very well and this new enty doesn't look to disappoint.  While the core gameplay remains mostly unchanged, the primary new mechanic will see players finding Pillow Portals throughout the world which transports Mario into Luigi's side-scrolling dream world.  Using his dream version of himself, Luigi can merge with the environment to manipulate the world.  Plus, there's a whole dream that turns Luigi into a giant kaiju to do battle with a Voltron-like robot so it gets points for that.  For our international friends, expect this one to arrive a month earlier as us North American folks evidently aren't worthy.
August 15th
Payday 2
Developed by: Overkill Software
Published by: 505 Games
Platforms: PC, 360, PS3
I royally screwed up at E3 2011 when Payday: The Heist was announced.  It's Left 4 Dead style gameplay coupled with objective-based robberies and heists didn't connect with me at the time and, for that, I truly regret not paying attention.  Payday 2 arrives this August and looks better than ever.  Gameplay flaws from the previous game are reported to have been largely fixed and the stealth elements that went mostly unused in the first game have been given a much bigger emphasis this time around.  Cash stolen throughout the game now functions as currency for upgrading your character and weapons and new heists will unlock based on your performance thanks to the new Crime Net mechanic.  The game is looking pretty dang good and I'll definitely be picking this one up.
August 20th
The Bureau: XCOM Declassified
Developed by: 2K Marin
Publisher by: 2K Games
Platforms: PC, 360, PS3
Man, what a ride it has been for this game.  The Bureau underwent three design iterations in the time between its announcement in 2010 and its release.  Gone are the initial survival-horror elements and the first person gameplay, now replaced by third-person squad-based combat that is far more in line with the 2012 release of XCOM Enemy Unknown than its initial enemy designs.  The game looks to play like an amalgamation of Brothers in Arms and Enemy Unknown and that is certainly a good thing.  The Bureau is a game we've been long excited for and we can't wait to show it off when it finally arrives.
Saints Row IV
Developed by: Volition Inc
Published by: Deep Silver
Platforms: PC, 360, PS3
Volitions crime drama series was once the answer to a world in need of a next generation Grand Theft Auto title but after its first title it quickly evolved into the satirical spoof people needed to combat the angst-filled titles Rockstar loves to put out.  Given the series' natural evolution from title to title, growing more and more ridiculous as time goes on, its only natural for the fourth game to put the player in the shoes of the President of the United States as he is trapped in a virtual Steel Port (the city from SR3) by invading aliens.  Yes, that's the plot.  Oh, and did I mention the superpowers?  Yeah, that's in there now.  The game looks like a ton of fun and it's a shame that the game will not be experienced by many of our Australian friends and readers.  Check out the E3 2013 demo that Joseph and I got to play above.
Tom Clancy's Splinter Cell: Blacklist
Developed by: Ubisoft Montreal
Published by: Ubisoft
Platforms: PC, 360, PS3, WiiU
After Michael Ironside departed the role of Sam Fisher I became quite sour at having any good expectations for the next release in the series.  Slowly, however, my hopes have risen over time to the point in which I'm quite excited for this next entry.  Ubisoft is promising a much stronger emphasis on stealth and ghosting this time around (you can do a complete pacifist run by the way) which I'm very happy to see considering just how shooty Conviction was.  Blacklist also serves as the return of Spies Vs. Mercs and man, was I ever worried about it going into E3.  Thankfully Ubisoft has remained faithful to the original vision of the multiplayer and I'm happy to report it is an incredible amount of fun.  Considering that Pandora Tomorrow's multiplayer was the reason why I got into online gaming, you should consider this an official endorsement of my confidence in the experience.  Pick this up alongside The Bureau and SR4 all on the same day if you can afford it.
August 25th
New Super Luigi U
Developed by: Nintendo
Published by: Nintendo
Platforms: WiiU
It's a new Mario game.  Where you play as Luigi.  Using the same formula as the previous New Super Mario Bros titles.  It's also DLC for New Super Mario Bros U that released on June 20th.  Oh boy.  I'm gonna move on now.
August 27th
Killer Is Dead
Developed by: Grasshopper Manufacture
Published by: Xseed Games
Platforms: 360, PS3
There's not much more that could be said about Suda51 than has already be spoken alound.  His sense of zaniness in his games returns in Killer Is Dead in which the murderer in question is most likely deceased.  You play as a cyborg mercenary that is tasked with killing assassins and criminals around the world.  Suda51 promises that the game will be a more introverted story than his previous titles and has a tone focused on "love and execution." Whatever that means.  Either way, expect some decent combat, wacky gameplay mechanics and plenty of footage of us screaming WTF at the top of our lungs as we play it.
Lost Planet 3
Developed by: Spark Unlimited
Published by: Capcom
Platforms: PC, 360, PS3
Ok, so I wrote about this one for the last quarter release guide and Capcom decided to delay it.  You can watch the latest trailer above but I will say this: don't you fuck this up Capcom.  If you delay this game again I swear to god I'm not going to write about it in the next guide.  YOU'VE ALREADY HURT US ENOUGH IN THE PAST YEAR, DON'T HURT ME ANYMORE!
Expected in August
Starlight Inception
Developed by: Escape Hatch Entertainment
Published by: Escape Hatch Entertainment
Platforms: PC, PS3, Vita
One of the first major Kickstarter game titles after the explosion that was the Double Fine Adventure, Starlight Inception was able to barely squeak by when its funding period ended last May.  Headed up by Garry Gaber, project lead for the Star Wars RTS titles Force Commander and Galactic Battlegrounds, Escape Hatch's project looks to be very much 2013's lead up title to Chris Robert's Star Citizen which is due to arrive over a year from now.  You'll play as a 22ndcentury space fighter pilot fighting on the frontlines of an inter-solar World War IV in a game with a strong emphasis on systems, power management, and dogfighting.  It looks pretty good in my opinion (for full disclosure I backed it as well) and looks to be a good cross between Wing Commander and the Star Wars Starfighter titles.
September 3rd
Rayman Legends
Developed by: Ubisoft Montpellier
Published by: Ubisoft
Platforms: 360, PS3, WiiU
The return of Rayman in 2011's Origins was celebrated by many thanks to its classic gameplay and wonderful hand-drawn design.  Legends, originally meant to be a launch window title for the WiiU, looks to be more of the same and that is definitely not a bad thing.  Anyone and their dog will tell you that the game was delayed to accomidate the 360 and PS3 versions after Ubisoft saw the struggling sales of Nintendo's latest console and if someone tells you otherwise don't you believe them for a minute.  It looks very good and we're looking forward to it.  Just don't expect sales from this one to be the catylist that forces Ubisoft to announce Beyond Good & Evil 2.  We're not falling for that one again, Ubisoft.
Total War: Rome II
Developed by: The Creative Assembly
Published by: SEGA
Platforms: PC
The Total War series has been beloved by many strategy fans over the years and after a long, long wait, players will finally be able to return to the robes of Alexander the Great and more in the sequel to the 2004 hit.  Taking notes from their work on Shogun 2, TCA will be incorporating decision-making into the gameplay and expanding on it, affecting the way the campaign will play out.  Mixed naval and land combat is planned for the final product and a strong amount of customization is proposed.  It's looking very good and though I've never tried any of the games in the series, I might just pick this one up.  After, of course, my addiction for Civ V dies down.
September 10th
Kingdom Hearts HD 1.5 Remix
Developed by: SquareEnix
Published by: SquareEnix
Platforms: PS3
Oh boy, more Kingdom Hearts games.  Be still, my beating heart.  This new compilation will contain upscaled HD ports of Chain of Memories and 358/2 Days (why don't they just call it 179 days then?) as well as the original Kingdom Hearts.  I don't see myself picking this one up but I must point out one piece of interesting information: this is a complete rebuild of the original game.  It seems that SquareEnix lost the source code and assets for the first game several years back and were forced to salvage code and recreate much of the graphical work.  So hey, if you want an idea of just what Kingdom Hearts III may look like, this might give you a fair idea of what to expect.
September 15th
The Wonderful 101
Developed by: Platinum Games
Published by: Nintendo
Platforms: WiiU
Yet another game that should have arrived during Nintendo's launch window, Hideki Kamiya's first WiiU title will finally land on store shelves in the middle of September.  For the unaware, the player will control a group of superheroes in a fight against an invading alien force.  Using the WiiU gamepad, players will draw shapes on the controller which will change the formation of the heros, transforming them into powerful weapons to use against the aliens.  It's got a heck of a lot of charm, supports 5-player local co-op and, most importantly, looks fun.  If you've been needing an excuse to get a WiiU past ZombiU, you should most certainly consider this title.
September 17th
Grand Theft Auto V
Developed by: Rockstar North
Published by: Rockstar Games
Platforms: 360, PS3
Our final confirmed major release of Q3 needs no introduction and man, is it looking good.  This story of a trio of characters pulling off heists in a magnificent looking Los Santos will no doubt be one of the biggest releases of the year and might even overshadow the launch of the next gen systems due to arrive in November.  With each bit of information released we learn about something new and exciting, the latest bit stating that you can own and manage stores and real estate.  What else can I say?
Expected in September
Republique
Developed by: Camouflaj
Published by: Camouflaj
Platforms: PC, Mac
One of the early Kickstarter darlings, backers who demanded a PC version of this rather interesting game will get what they wanted two months after its iOS counterpart is expected to release.  A stealth-based survival horror title, you play as a security operative attempting to aid a girl named Hope through a labyrinth of rooms and hallways in a building owned by a totalitarian regime ala 1984.  Jennifer Hale and David Hayter are set to voice key roles in the game beyond the main character and since the game draws inspiration from titles such as Metal Gear, this might be the last time you get to hear Hayter's voice in a stealth-based game.  It looks pretty good so be sure to keep this one on your radar.
Well guys, that about wraps things up.  Be sure to bookmark this page so you can keep track of the games coming out over the next 90 days.  See you in September!