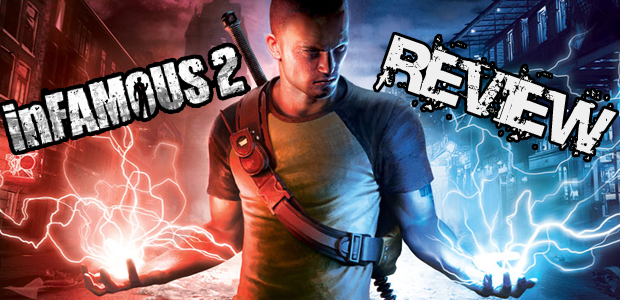 inFamous is a series that I've long had problems with. Initially I played the first demo and I already knew I wouldn't like the controls. Then I played the retail release. The characters, the story, the combat, and even the good/evil decisions all seemed to be pretty mediocre. But somehow I've managed to play through the entire first game and still come back for seconds, so I figure Sucker Punch must be doing something right.
inFamous 2 (Playstation 3)
Developer: Sucker Punch Productions
Publisher: Sony Computer Entertainment of America
Release Date: June 7, 2011
If there's one thing I like, maybe even love about InFamous, it's the pacing. Unlike a lot of open world games which rely on vehicles as the main mode of transportation, super hero games like inFamous allow the world to be traversed in a much more interesting way. Albeit that inFamous is not as smooth or satisfying as another one of my other favorites, Crackdown, it's still far better than the tedious travel in a game such as Grand Theft Auto. The objectives are clearly marked and I enjoy the brisk pace of simply going from checkpoint to checkpoint. I'm not exactly one for side quests, especially when more dire situations are at hand. In the case of InFamous 2, a giant being of energy is on a destructive path to the city of New Marais. In a nut shell, that is the InFamous series to me. It's a formula that I enjoy but can't stop complaining about while I'm in the process of playing it.
The inFamous series implements what I call sticky mechanics. Your character will automatically grab things around the world when climbing. The main purpose for this system is to be forgiving towards players who might make mistakes while climbing. It's a good idea and I know why it implemented, but this mechanic frustrates me to no end. For every one time it does save me from falling, it messes up my timing on nine other jumps. Other times I just want to fall directly to the ground.
This is my biggest knock against inFamous. Navigating around the world always seems like a chore. I always feel like I'm grabbing onto something I don't want to be grabbing. I never feel like a super hero jumping from building to building. I have to be careful to measure my jumps because the float might not carry far enough. Or take the long way around because it's not worth the risk of missing a gap and having to scale the building again.
Sucker Punch did implement a sort of grappling hook power, which I absolutely love. But unfortunately the power wasn't obtainable until near the end of the game when much of the world had already been traversed. Had they put it in earlier, I think it would have made a significant difference.
This is a common theme for inFamous 2. Where I thought Sucker Punch would make improvements or take some chances, I found things to be nearly identical to the first game. While I'm glad they didn't strip Cole of all his powers, the combat is the same. The addition of fire or ice, although explained story-wise, makes almost no new impact gameplay wise. They could have just as easily been more electrical powers and no one would have been the wiser. The decisions, which I felt they failed to capitalize in the original inFamous were just as lame and uneventful in the sequel. There is no reason a player would change their choices dependent on the story because it's still most beneficial to go all the way good or all the way bad. Players want to fill up their bar because it unlocks more powers and making an opposite choice would only hinder that. So the decision making process is just an illusion. A player makes a decisions in the beginning whether to play blue or red from then on everything is just following the pre-laid out path. It's frustrating to me that the game is marketed as choice driven when really it's not.
Perhaps the biggest tragedy of all is the cast of infamous 2. Even though Cole has found himself in a completely new area of the United States, he's still doing battle with similar looking hooded henchmen. From there Cole finds himself engaging genetically altered ice people with guns and hulking ice gorillamen. And while the first game already dealt with the super natural, inFamous pulls out all the stops by introducing Dead Space-esque creatures with virtually no explanation of their origins except that they are a product of mutation. I found Cole's allies, enemies, and the creatures all to be completely uninspired. I would have liked to see some sort of one on one super human clash. Cole fights these giant monsters sharp teeth because it's the traditional man vs beast but even that makes the lines of good and bad extremely obvious. The game did not need more of that.
I hoped that Sucker Punch would have addressed these problems in the sequel and try for a more immersive experience. Where there could have been steps to further the series into something like Uncharted 2, the decision was made to play it safe.
The saving grace is that the last decision you make is actually interesting. It's the only choice a player might think about. I questioned myself for a couple seconds, but then when I looked back on how I progressed up to that point, it was easy to just go with blue again. Even so, I think my true opinions of inFamous 2 depend on how the story continues should Sucker Punch decide to make another sequel.
Score: 66 out of 100
Nearly identical to the first, saved only by its' decent ending.

Quick Notes
I'm curious about seeing the Bad Story – Maybe I'm missing something?
User Generated Content....?
You can import your Infamous save. Didn't know until way late.
Credits
Xophen & NCCreations for the banner.