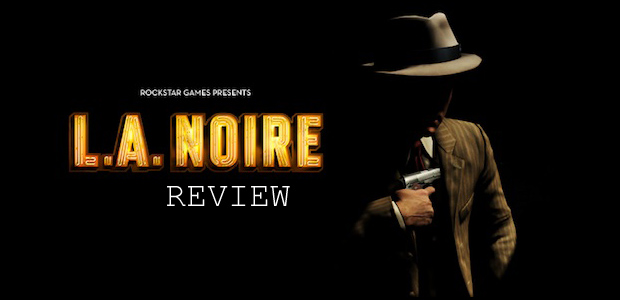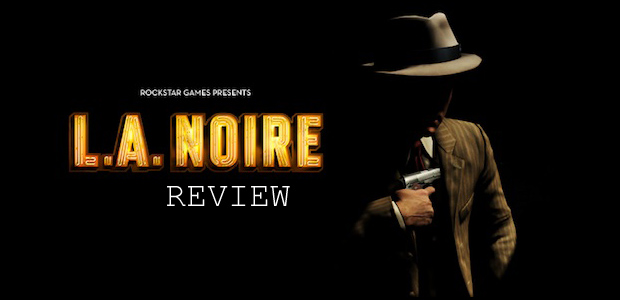 It would be safe to say that you have probably never played a game like L.A. Noire. Rarely is the detective story angle used as a source of inspiration, but as I've found from playing Heavy Rain, mystery can create some extremely satisfying and enriching memories. In the case of L.A. Noire, I'm still trying to solidify my feelings about whether or not the time period was an integral part of the plot. Was the 1940's just used as a stylistic approach or could there have been better choices made?
L.A. Noire (Xbox 360)
Developer: Team Bondi
Publisher: Rockstar Games
Release date: May 17, 2011
One of the best things LAN (L.A. Noire) does is put the player in classic situations of a police investigator. If you've done any reading up about the game, there has been a lot of talk about interviewing suspects and searching for clues, which I'll get into later. What I valued most about my experience with this game are the moments of tension. You're placed in a situation where you're in the killer's apartment, searching through clues, unsure what you might find, or if he might walk in at any second. Developer Team Bondi did a great job creating these scenarios and using the audio to enhance moments of discovery, paranoia, and excitement. This game reaffirms that a shrill violin is still one of the most startling things to hear.
The recreation of the world and culture are the parts where I think L.A. Noire succeeds. Sprinkled throughout are memorable moments of classic detective imagery. The on foot chase of a suspect. Car chases leading to running the bad guy off the road. The gangster shootout. There are also a couple I don't want to spoil so I'll leave it at that. These moments are the reasons why I enjoyed LAN and would recommend it to others. Think back to movies like Se7en. The character walks into the apartment, possibly the murderer's. No one is at home so he kicks in the door. He has no clue what he'll find in the next room. Possibly some socks? Or maybe a bathtub full of blood. That is the completely different experience a player will have in LAN versus any other game. You'll discover the story piece by piece, each part latching onto another part.
While captivating at points, I personally don't think the story is nearly good enough. The characters are pretty one dimensional and act pretty much like you would expect them to. I love the dialogue between partners and how each situation matches the circumstances. The biggest disappointment for me however was the explanation. When you're trying to explain weird freaky stuff going on, your story has to be air tight, believable, but with enough information for the player/audience to work things out themselves. They need to be able to see the thread that ties everything together and I didn't feel LAN did a good job of that. I can't go in depth without spoiling the game but I'm sure we'll have a discussion in the future and I'll make it available should you want that information. Just remember, I enjoyed the journey, not so much the destination. So please keep that in mind.
Other than the story, something else that confused me was the importance placed on immersion. On one hand, I feel that L.A. Noire is trying to be this experience that players completely lose themselves in. Like a homicide detective consumed by his work, a player should just be focused on the case at hand, forgetting about social relationships, meals, and even personal hygiene. For the most part, this is how I felt. The last couple days I behaved similarly. But then I look at some of the design choices and I felt a lack of commitment to that philosophy. This pulled me out of the believability of the situation.
For instance, travel by vehicle. Like any open world game, a player leaves point A, hops in a car, and then drives to point B. I found it extremely jarring when driving to the next area like a maniac, running red lights, accidentally bumping into other cars, running over pedestrians. I think the argument is that I should not drive like a person in a rush, but that would make already lengthy driving portions even more so. More jarring was that during travel, I'd often have radio calls come in offering some sort of police response quest. I'd have the choice of helping out a citizen in need or ignoring it to continue with the main objective. It's obviously a side mission added to flesh out the situation but I hate how it was inserted specifically there. I never want to be hassled during the middle of the story, especially a murder case. I still do want to play the upstanding officer though so I'm conflicted on how to proceed. Thankfully Team Bondi put a way to circumvent these procedures by having a fast travel. It allowed those who wanted those experiences to have them and me to focus on the case at hand. I can only assume that the choices were made for a different audience, but I feel it takes away from the experience, which brings me to the interrogation portion of the game.
The selling point of the L.A. Noire became the most forgettable for me. Not because it didn't make an impact, but because I wanted to forget everything about it. There is almost nothing I liked about interrogation. I felt it was very game-like. It was vague, inconsistent, and I never knew how my character was going to respond. I don't want to get into an argument about the real processes of interrogation, but my understanding is that in humans, even we have a pattern. But going back to the immersion argument, I would have a conversation with suspect. They would speak, stop, and then make some sort of face, which I would closely analyze and try to decipher. I hated having to choose between three colored buttons marked truth, doubt, and lie. That's not how a conversation should flow and I dreaded having to guess my way through them and then be told how many mistakes I made. It ended up getting to a point when I would game my way though always picking Lie to see what the response was. If my response came off chippy or snarky, I'd go with Doubt, which is term I still don't completely understand. I would have much preferred the developers not give immediate verification of the answer and let the player continue on figuring out. The world of LAN would have felt more real and so would the believability of conversations.
There should, however, be some mention praise for the facial expressions and the realness of how they are captured. This is new ground among video games and borders with the incredible performances of Uncharted 2 and Enslaved. I would love to see this technology become a standard but I know it's far too expensive to expect that now. Maybe one day in the future.
L.A. Noire is a great experience. One that is unique and interesting. It wraps up nicely, but not as nicely as I would have liked. When you have a game that is made out to be about finding out whom you can trust it has to be a home run. I got this feeling that there was really only one path for the player with all branching trails steadily leading back to the main one.
83 out of 100 - A great experience. Unique and interesting. Wrapping up nicely, but not as nicely as I would have liked.