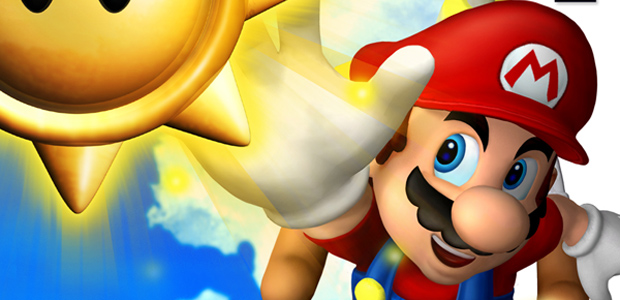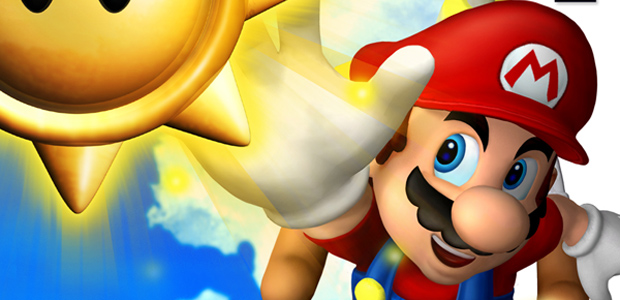 I played a lot of platformers in my day. I wouldn't consider myself an expert but I'd say that I played a good amount of them and have the ability to tell the good ones from the bad. I know there's quite a few who will say Mario 64 is classic or that Galaxy is better, but I don't agree. People were so in love with Mario 64 that Sunshine never had a chance. But in my opinion Sunshine has what it takes to be the definitive 3-D Mario experience, here's the reasons why....
10 - Hello Yoshi
Yoshi didn't make his debut in Mario Sunshine, but he did make his first 3-D appearance. Yes, I know he made an appearance at the end of Mario 64. But all he did was give you 100 lives after you had already 100% the game.
As for Sunshine, Yoshi was one of the most frustrating parts for me. Mainly this was because his portions were all about using him to reach an area that required him as progression. Most times a mistake would cause you to lose him and start the process of finding him all over again. I'm having a hard time remembering if this was part of the main game or if I had troubles because I was actively trying to collect all the Shine Sprites in the game. But when you compare his involvement in Mario 64 or his Galaxy 2 chili pepper rocket with a tongue auto-targeting self, I'd hardly call it interesting. Admittedly Yoshi was best in the 2-D games, but for the 3-D ones, Sunshine wins by default.
09 - Island Tunes
All the Mario games have had pretty exceptional music. Mario 64 had some powerfully memorable tracks. Mario Galaxy has some great ambient mood music as well as cleverly orchestrated ones. But Sunshine just does a great job of capturing it's setting. The island theme as well as the different musical settings are just so well put together and is unmistakably Mario Sunshine. Also you'll have to remember that this was the first time a Mario game featured CD quality sound. No more cartridge compression. It's just a shame there's no official soundtrack for Sunshine.
Here's one of my all time favorite video game tracks.

08 - Interest in Bosses
To the best of my knowledge, Mario Sunshine has my favorite boss battles. While Mario 64 was a landmark game for first creating those experiences, Sunshine was truly an evolution for ideas and what you could actually do in a 3-D Platformer. Filling a Pirahna Plants belly with water, fighting a Ghost King on a moving Roulette Wheel, Fighting a Giant Mech while on a Rollercoaster, Dentisting an Eels teeth underwater, Battling a Manta Ray coating the floors with electro goop. Those scenarios were interesting and new. They're not repeated in Galaxy and they couldn't be created in Sixty Four. Which is why they're my favorite.
I do, however, think that Galaxy is a continuation of that evolution, but I feel big enough steps weren't taken. There's a step back in boss complexity design because of the lack of camera and there's also a repeating of the Bowser boss battle which leads me to my next point
07 - Bowser Has a Son?
Think back to the best boss experiences in the Mario Franchise? Did Super Mario Bros. 3 or Super Mario World come to mind. Why is that? Variety for one. Could it be that having different members of the family involved brings a breath of fresh air? Being that the other option is beat up on a gradually upgrading version of Boswer for eight straight levels makes things pretty clear. Mixing it up is a good choice. The first appearance of Bowser Jr. had passing of the torch moments to it. This wasn't your parent's Princess Kidnapping. The Koopa's had upgrades in technology and gotten with the times. In addition there were also more comical tones to the game when you saw Bowser and Junior talking about the plans for the future. But more on that later.

"Someday, when I'm bigger, I wanna fight that Mario again!"
—Bowser Jr., Super Mario Sunshine
06 - Innovation in the form of a Waterpack named FLUDD
The main addition to Sunshine, the waterpack, made this Mario game somewhat of an oddity. I've always felt from others that feelings towards FLUDD were negative. I only remember hearing from people who complained about the situation but maybe those numbers are a bit skewed. I, on the other hand love the complexity FLUDD added. Sure, there were missed presses and accidental nozzle changes. But having the ability to cover up mistakes by floating around gave the series new life. Eventually I got the hang of it and started pulling off crazy aerial moves to navigate the environment. Water management was handled pretty well where I wasn't always running out of water having to spend large amount of time to fetch some more. I still don't see where all the hate stemmed from. FLUDD didn't have the impact of something like the winged cap, but it was surely a lot more complex, right?

05 - The Best Controller Ever Made
Well, kinda. I love the GameCube controller. There are flaws with it. But for everything on the GameCube, it was all I needed. This is one of the reasons why I can't go back to play Mario 64. After using the analog stick on the GameCube, who wants to use the N64's nub? Or the even C-Buttons for Camera Control? Yikes.
04 - Miss You When You're Gone
As I said before, navigating through the areas with FLUDD was a joy for me. I loved coming up with my own shortcuts around areas. But then to change things up, there were points where they took FLUDD away. Having those sequences really made me realize how much more difficult the game was without the waterpack. I think that was an important point to make within the game. When you have something, you don't really recognize it's importance until it's gone. Then there's at moment of realization leading to appreciation. This is specifically a trait of Super Mario Sunshine.
In the other Mario games, your powers are always limited, situational or temporary as long as you don't get hit. Use metallic powers to sink. Become bee to fly. Turn into spring to bounce. They're all piece meal scenarios which taper your enjoyment to that hook. But those moments are fleeting because there's not all that much more to them. They'd be much less interesting if you tried to build a game completely around that idea. While in Sunshine, a player is given those powers and allowed to do whatever. The levels are designed around that. And it's even more understood when playing the Optional Challenge levels made specifically without those powers.
03 - Evolution of the Stage
With every next step there should be true progress and movement forward. I think that's the case with Sunshine. It took some of the best laid ideas of Mario 64 and truly expanded on them. When I think about the stage design I'm reminded only of fond memories. The high rise scaffolding of Ricco Harbor. The rollercoasters of Pinna Park. The depths of Noki Bay. The solar mirrors of Gelato Beach. While I do think it's arguable that Mario 64 had just as many memorable locales, going back to them now you begin to see the simplicity and the aged look. And if you go forward towards Galaxy, the levels are all scaled down to allow for more variation. This unfortunately also creates a lack of inspiration or grandiosity. Sunshine, I think sits right in the middle of the two worlds, a realization of grand level design before the wave of simplification for newcomers.
02 - The Mario Game with a Story and Explanation
Mario sets off, collects a bunch of stars, beats up Bowser, rescues Princess Peach. It's a formula we've seen over and over and over again. It's not anything that I'd complain about wanting changed, but at least give me good reason to go through the steps. Mario 64 gets a pass for being Mario 64. But what the hell Galaxy? I'm guessing Nintendo decided to abandon all hopes for a story for the Mario Series, even going as far as using the same EXACT set up for Galaxy 2 as it did for Galaxy 1. I'm talking about mirror image except a lesser emphasis on story.
Sunshine features a twisting plot of mystery and deception. A Trial? A Conviction? Who is this Shadow Mario figure? Will Mario ever clear his name? It may not be Bioware or Bethesda, but it's something at least.
Skip to 3:53 (Don't watch these videos if avoiding Spoilers)

01 - Mama Peach?
The cutscenes featuring Peach were my favorite part of Super Mario Sunshine. This partially coincides with the whole Mario with a Story but even without the antics of Peach and Bowser Junior, Sunshine would still be a fantastic 3-D platformer. With them, it's the icing on the cake. The ribbon that ties the whole package together. The cherry on top. As you'll see in these videos.
Skip to 3:20 and 7:30....

So this brings up the question? How many of you finished Super Mario Sunshine and have seen that cutscene before?
Thanks for reading,
David