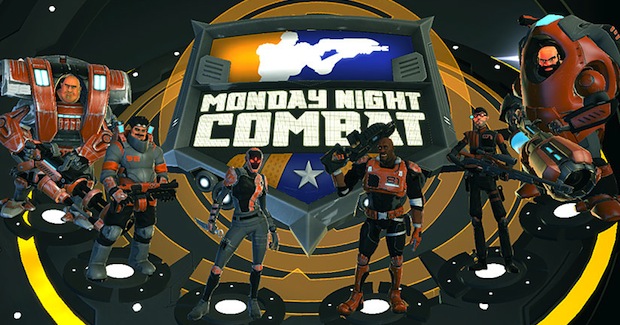 Remember that shitty GTA clone, Yakuza? Just like in GTA, Yakuza had the player driving from mission to mission, running over pedestrians, and wasting wave after wave of dudes with rocket launchers. At least that's what was believed by people who think that a game that slightly resembles another, must play like another.  And there are a lot of those people.  So when it debuted in the era of GTA and shitty GTA clones, Yakuza sold like a shitty GTA clone -- despite it being a remarkably fresh and unique Japanese RPG.
Don't make the same stupid mistake with Monday Night Combat. Team Fortress 2 is a shooter. This game is not -- at least not in any traditional (or boring) sense of the word. This might sound confusing if you've just casually watched a trailer or two, but I'm being serious. They might share a similar art style, but Monday Night Combat has more in common with last year's League of Legends than it does Team Fortress 2. That's because Monday Night Combat is actually a very interesting twist on the DotA genre.
Take a DotA game, change the camera angle of your hero unit to over-the-shoulder, add in a heavy dose of the Smash TV setting and vibe, and you will be much closer to understanding what this game actually is. That is, of course, assuming you know what a DotA is.
DotA (or Defense of the Ancients) is the name of a Warcraft 3 mod released back in 2003. The game was essentially popularized a new and unique genre of game that is still very small. So small that the genre is commonly referred to as the name of its most popular game (similar to Metroidvanias). So when I call Monday Night Combat a DotA, realize that it is because it is a game in the same genre.
DotAs are team based multiplayer real-time strategy games. But instead of controlling a team of units, each player only has control of one hero unit. The teams live and die by the survival of the bases located on opposite ends of the map. The goal is to take down the opposing team's base (or "Money Ball" in the case of Monday Night Combat), while trying to prevent the destruction of their own.  Each base spawns AI units that follow one of multiple paths (or lanes) towards the opponent's base. As a hero unit, the player utilizes skills and abilities to both aid his own team of AI bots and friendly heroes, as well as kill opposing AI bots and enemy hero units in order to gain experience and level up.
Leveling up is another big part of the DotA genre. No matter which character you choose, you always start a match at the base level. The experience you gain (by killing and destroying shit) contributes to your experience pool that can be spent on leveling up the unique arsenal of skills for each playable hero.  All of these elements are present in Monday Night Combat.
Now watch the trailer and tell me it's making a little more sense.
While Monday Night Combat is definitely not your average team based shooter, it does have some things in common with Team Fortress 2. Because the art style of the characters is similar, the game not only looks great; but it also serves the same functional purpose that it did in Team Fortress 2. Hero units will be instantly recognizable from all the way across the map. Support units also have a similar (and awesome) heal and hurt beam that the Medic has in TF2.
Where Brutal Legend failed, Monday Night Combat could succeed. While RTS games may never really work on consoles, DotAs seem like a great place to start. (OMG, Brutal Legend would have been PERFECT as a DotA! *frown*) Something new and refreshing for both shooter and strategy fans alike, this unique hybrid could be the sleeper hit of the Summer. Look for it later this month as part of The Summer of Arcade on Xbox Live.