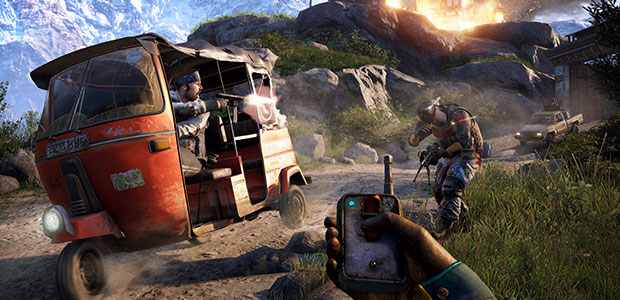 It hasn't been a great year for Ubisoft, which is to say, Ubisoft hasn't had a great run of being open and honest with their customers. The entire launch of Assassin's Creed: Unity has been an unmitigated PR disaster amidst the hardcore crowd, and with Forbes articles entitled "Congratuations Ubisoft, You're The New EA" coming out along with news of not-so-good financial developments, they're definitely looking to come out of this year with a black eye.
Far Cry 4, set to be released in mere days, has been arguably their last hope at some kind of redemption. That's a tall order for a market that, traditionally, rarely forgives (if ever), and has been spurned multiple times this year. There have already been complaints and fears, many revolving around the idea that Far Cry 4 simply doesn't look like an entirely new game and has yet to show it's any more of a next creative step than just some add-on DLC.
When a Playstation 4 user went live with the game (they have since been banned, as one would assume), viewers got their first look at the game in action. Opinions on the actual gameplay appeared relatively positive in the NeoGAF discussion thread about the game, but after the stream went down one user brought up something very concerning:
The game's map editor was seen in the stream, and while the editor itself impressed some viewers, one noticed that none of the game modes are multiplayer.
If this is true, that means that the map editor will only work for PvE gameplay. While this is certainly entertaining enough on its own, PvE-only maps would mark a step back for the editor throughout the series. More concerningly, this would only pile on to an increasingly long list of things Ubisoft PR has conveniently swept under the rug pre-release.
A snapshot from a pre-release Twitch stream hardly counts as final confirmation of all game features, but it's unfortunately easy to believe this one given the year Ubisoft has had so far. Here's hoping we'll be pleasantly surprised once the game hits next Tuesday.