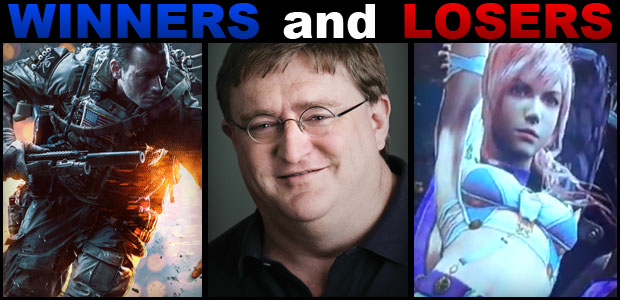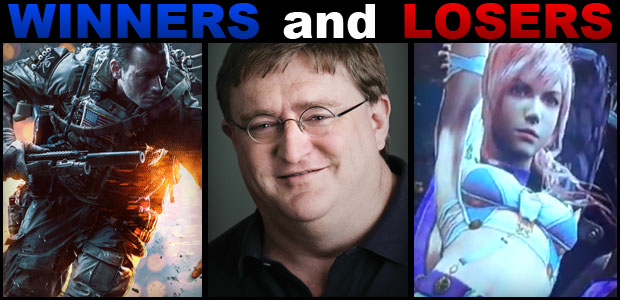 Hi.
"Another Winners & Losers so soon?" You ask.
"Yes," says I. "These are supposed to come out on weekends. The first one was weird. Relax."
It's been an interesting week in vidjagames, with ups and downs and winners and losers and whatever Microsoft is at this point. Let's dive right in.

Battlefield 4
Congrats! As Call of Duty: Ghosts languishes with Metacritic averages dipping almost ten points beneath Black Ops II, Battlefield 4 has managed to keep its slide to a more manageable level and now has scores averaging in the 80-85 range. Maybe the raw, unbridled power of LEVOLUTION is something special after all.
Amazon
Amazon's Black Friday deals last year were awesome, and if their "Countdown to Black Friday Deals Week" is just a sampling of what the actual Black Friday will be, pretty cool stuff is about to go down. Seriously, go check it out- $70 off the Splinter Cell: Blacklist collector's edition, $30 off Saints Row IV's "Super Dangerous Wub Wub" and "Game of the Generation" editions, Zone of the Enders: HD Collection for $10. Even if nothing strikes your fancy, it's a good sign.
Valve
Valve has always been a company that treats their gamers well, and announcing that there won't be any Steam Machine-exclusive games is awfully nice of them, partially because to be honest, I don't want one.
Playstation 4 Buyers
It was already nice that the Playstation 4 comes with HDMI cables and a headset, but Sony's announcement that buyers will also be given still more things is pretty cool: $10 to put in your PSN wallet, a 30-day PS+ trial, and 30-day Music Unlimited trial. Adding all of them together comes to roughly $30 of free stuff. Not bad.
Microsoft
Xbox Live Gold members with an Xbox One console will be given six months of Skype group video calling for free, along with 100 worldwide minutes each month. Together, these also equate to about a $30 value, which is kind of funny if you think about it. This is why competition is good! Companies give us free stuff to win our affections!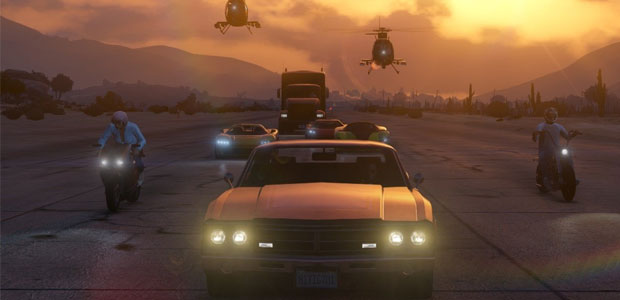 Grand Theft Auto Online Players
If you haven't given up on GTAO yet, you'll be happy to know that Rockstar has rolled out the $500,000 "stimulus package" in-game to any players who were present in the game since the beginning of October. Recent patches have also made the game more stable, meaning that character of yours receiving $500,000 won't be arbitrarily deleted! The lack of the much-vaunted heists and broken "Bad Sport" system are still keeping me away, however.
Square Enix
The sexualization of Lightning in Lightning Returns: Final Fantasy XIII has been awfully not cool, and reached its peak when a stupid and rather uncomfortable-looking would-be "sexy" pose was shown from her Sorceress not-dressphere. Siliconera reports that producer Yoshinori Kitase has said that the pose "has since been revised," thankfully. Still, that won't do anything about removing the jiggle physics and Lightning's increased cup size...
XSplit Users
It's that time again. Change your passwords and lock your stuff down. What has been compromised?
In particular, your XSplit account name and hashed password, as well as account name and stream key for live streaming services that you have used.
So, basically everything.
Battlefield 4
Maybe those Metacritic scores would be a bit higher if the game wasn't broken, which it currently appears to be. The glitches actually appear to be almost creative, with one muting the entire server if a player uses a silencer on a particular weapon (truly the silencer of the future, albeit one that misses the point). DICE is hurriedly rolling out patches, but it'll take a little while before this one is truly ready for prime time.
Call of Duty: Ghosts
It's a little early to say that the king has been dethroned in the retail sphere (every major release is hurting as consumers hold back until the new consoles mere days away), but critically, Ghosts represents a real step down. Incredibly, Treyarch's efforts with the franchise are being regarded as superior to Infinity Ward's, as Black Ops II's attempts at expanding the franchise were not exceeded or even matched by Ghosts. The noticeably tamer critical response may not have as large an effect on sales, but it still represents a hit.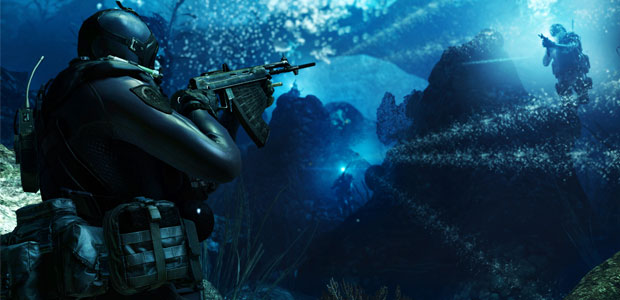 Halo 4
Halo 4's multiplayer has struggled for many reasons, aptly summarized in this NeoGAF post, and all of that has finally reached its natural conclusion: just recently, Halo 3 had a higher player count than Halo 4. Ouch.
Microsoft
Sony had to concede some ground when they admitted MP3s and audio CDs will not be playable on the Playstation 4, stating that a Music Unlimited subscription would be required to play music on the PS4 on the menu or in the background of games. Albert Penello of the Xbox One team took to twitter to rightfully brag about Xbox Live Gold members receiving free, no-subscription, ad-supported music streaming which was a great leg up until he had to take back literally every word three days later- 15 songs are free, and then you need a Music Pass subscription. They had another leg up on the Playstation 4's lame day-one patch to play Blu-rays or DVDs, but Penello (hi again!) announced in an interview with Engadget that "nothing," not even games, would be usable until a day-one patch was applied. To top off a great week, Microsoft's official Youtube channel posted an in-game video of (the sadly, sadly delayed) Watch Dogs, and seemingly hoped no one would notice that the footage was from the Playstation 4 version. They summarily pulled the video when news got out, but there are still screenshots of the PS4 buttons on the game's user interface. You know what? Microsoft, here's a homework assignment: Don't give me reason to give you such a large section on this list next week.