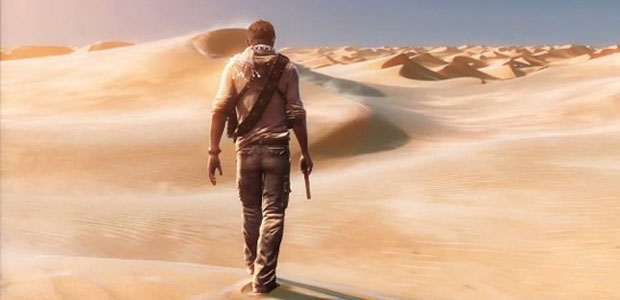 When you hear someone like Valve speak about their process they will frequently mention how to catch the player's eye and subtly lead them without making them feel led. This is a crucial quality for linear games to feel good, and it is self-evident by playing Vavle's games. In playing Uncharted 3 though, this crucial quality in linear design is missing, or even misleading.
An early chase sequence with Drake running from the people he crossed in a Hispanic city is rife with misleading options and appearances. One sees things that look climbable but really are not, sees lights that catch one's eye and direction but really lead to dead ends, or even a jump that didn't seem possible the first time is actually the way to go despite it (the jump ended up being one of those inconsistent jumps where Drake inexplicably floats for far longer than he normally does when jumping).
Further in the game there is an ascension up a tower during the night, with, of course, plenty of dudes to shoot. But once all the dudes are gone, the game comes to a sudden stop. "You should be feeling the pressure," the dramatic game music says, but the actuality is that the AI partners are just standing around in a circle on the floor below like bumbling idiots, as the search of the level above for wherever the game wants me to go continues. I even restarted the checkpoint a few times thinking maybe the game was bugged; maybe the partners were supposed to lead me to the next point or a cut scene was supposed to play. It turned out to be neither of these problems. The door I was intended to go into was in a dark blind spot of the level, with nothing making the door stand out or even seem interactive (until I walk right against the door and a contextual button prompt flashes for an instant). Open this door though and fight the brute behind it and then my partners feel it is fine to come up and the game finally stumbles forward.
Then there is a section in a desert where I even took the time to flowingly write a long paragraph in my notes because it was so horrible and just encapsulated another reason why I really hate Uncharted 3:
There is a moment where there is this shot that is slowly rotating around a sand dune and I'm sure it would look cool if Drake was walking across that sand dune or something but apparently I didn't walk across it the way the game wanted me to walk across it. The camera continues to rotate without me moving across it and, soon enough, Drake is no where to be seen. The camera keeps going and going and I'm just sitting here (for what feels like minutes) just dumbfounded, is this supposed to be cool somehow? Linearity completely breaks in this game and there is no way of dealing with it, nor does the game help in keeping the player on track. Once the camera does pan around fully, I see what went wrong. I walked too far in the "wrong" direction in this seemingly directionless desert, hit an invisible wall, and got stuck. Oh, as the camera pans around further, I see some foot prints, was someone here (even if just a mirage)? Maybe I can follow them. Then I hit another invisible wall, and realize those must be my baked in footprints that don't disappear, not something giving me a nudge. The idea of being lost in a desert and having false-clue-confusion is an interesting one but that isn't even what they are going for in this part. I follow the ridge this time, attempting to kind of guess where they want me to go, but even here, I am constantly hitting invisible walls on the sides. Then the capper, it doesn't really matter what I did in this scene, it fades to white anyway and I end up in some completely different place. How this can be a game of the year contender for anyone is baffling, how anyone can really think this makes for an interesting play experience confounds me. It is this kind of distinguishable disconnect between what the game purports to be in this scene (a large open desert) and what it actually is (a balancing beam wide pathway) that completely turns me off and is one of the absolute worst ways to make a linear game.