Review: Rise of Nightmares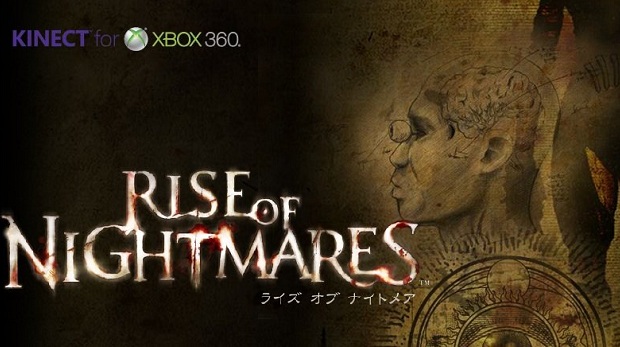 Rise of Nightmares is a game that suffered from its platform of choice. This should come as a surprise to no one, but the Kinect does not have the fine tuned motion tracking required to make a very intuitive and frustration free experience. While being the bold leader in creating the very first horror game for the Kinect, Sega AM1 managed to make a horror game that was simply not scary and was bogged down in the quagmire of technical problems that come with the Kinect.
Knowing that Rise of Nightmares would suffer from the same plethora of problems that many other motion games have suffered from in the past, I agreed to do the review on one condition: I play the game start to finish while completely drunk. I now present to you, my inebriated review.
Rise of Nightmares (XBox 360 Kinect)
Developer: Sega AM1
Publisher: Sega
Release Date: September 6th, 2011
Rise of Nightmares starts out following our unfortunately not-so-silent protagonist Jack while he is vacationing in Romania with his wife Kate. Having discovered a concealed flask on Jack, Kate berates him for his drinking problem and storms off. At this point, I was feeling a real kinship with our hero as I was currently chugging 40 ounces of Old English Brand Malt Liquor. As Jack runs after her, all hell breaks loose and the train derails, leaving jack to search for his missing wife in a nearby estate that is full to bursting with all sorts of fiendish meat monsters.

Reminiscent of a B Horror movie, Rise of Nightmares unfortunately doesn't play on the campy aspect enough and comes off as taking itself too seriously. The game consists of extremely bad voice acting narrating your experience while you walk down corridors and hit flesh constructs with a large variety of objects you pick up from the environment. Every aspect of the game screams House of the Dead which should not come as a surprise because Sega AM1 is the same developer that brought us that game series. Rise of Nightmares is basically House of the Dead meets Saw with extremely frustrating controls.
While the controls do leave something to be desired you can get used to them, much like you can get used to eating a pie made entirely of shit. It's still a shit pie, you're just not throwing up anymore. Rise of Nightmares has the player turn their shoulders left or right in order to turn their character on the screen. For the first hour of game-play when I was facing straight forward, my character turned drunkenly to the left. This could have been because I was shitfaced at the time, but it also lead to a lot of over steering and inebriated curses. Fortunately, Sega was smart enough to throw in an "auto steer" option in which you simply raise your right arm and your character will walk a predetermined path. This feature, however, is unavailable during certain segments of the game.
My main problem with the Kinect controls was that I kept stepping out of the range of the sensor. In order to walk forward you had to step forward and how far forward you extended your leg determined how quickly you moved. To move backwards, you simply moved one of your legs back. Having a spacious six to eight feet of room between me and the Kinect, I still managed to inch forward or back too far during the course of the game. This unfortunately resulted in several cheap deaths due to the sensor not detecting my movements correctly.
While there are a lot of problems to be had with the controls, I do have to give Rise of Nightmares a thumbs up for their combat. It is pretty satisfying beating the shit out of a sewn together sack of meat with nothing but your fists while screaming like a madman. Weapons are widely available although they vary in effectiveness. In addition to the standard stock of enemies, there are several boss fights that use a series of Kinect movement based QTE's. Surprisingly, these events are rather forgiving and give you a chance to avoid a would-be fatal attack.
In the end, standing up for an entire full-length game is really difficult. I finished Rise of Nightmares in two nights of three to four hour chunks. Standing up for this long, flailing around and maintaining a rigid posture probably would have been a lot more painful if I wasn't dulling my senses with copious amounts of alcohol. Though despite all of this, I still managed to write the following after finishing the game:
"I punched dudes. My feet hurt. I reallly iwhs it cout have played the game when sitting down. jesus christ ths was not worth the ffort. I realy ohpe they dont make a sequel because itdoes not deserve one untilt hey can fucking fix the technoogy."
Rise of Nightmares is definitely not a game you should buy a Kinect for. In fact, I wouldn't even recommend buying it if you owned a Kinect. Maybe if you were really bored and really wanted to play a Kinect game, you should rent it or buy it used, but it is certainly not worth the full retail price.
Score: 50%

(50-59%: Mediocre - A mixed bag, both the good and bad are about equal here.)
---